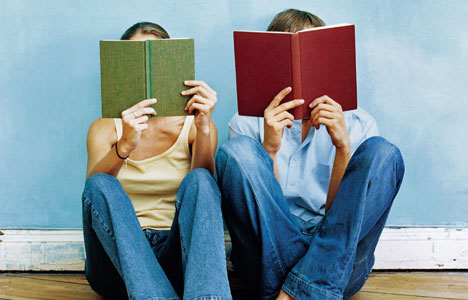 The first questionnaire results have arrived!
As part of the project, a research on reading literacy was conducted using a questionnaire, a tool convenient for several reasons: the possibility of reaching an unlimited number of respondents at their convenience, the anonimity of the respondents and the ability to quantify their responses and draw conclusions from the results.
The questionnaire, like the project itself, focused on high-school pupils aged 15-18.
Slovakia
The Slovakian version of the questionnaire was filled out by 1,808 secondary-school pupils: 945 males (52%) and 863 females (48%). Most of them were aged 18 (734, 41%). Pupils aged 17 comprised the second largest group (491, 27%), followed by 16-year-old pupils (357, 20%) and 15-year-olds (226, 12%).
The respondents generally regarded reading as important, regardless of their age and gender. Considerably more girls stated they liked reading, and were thus more likely to read with pleasure. Respondents aged 15-17 indicated that they prefered printed books. On the other hand, pupils from the oldest age group liked websites more. Regarding genders, girls liked paper books more than boys, which led to the conclusion that boys more often chose modern technologies such as the Internet.
As far as genres are concerned, they were evenly rated as favorite. However, younger pupils (15-16) and boys were more likely to choose a science-fiction or a fantasy book, unlike older pupils and girls, who were more interested in non-fiction. It indicated that pupils become more interested in facts with age, and that girls are generally more fact-oriented when choosing a book.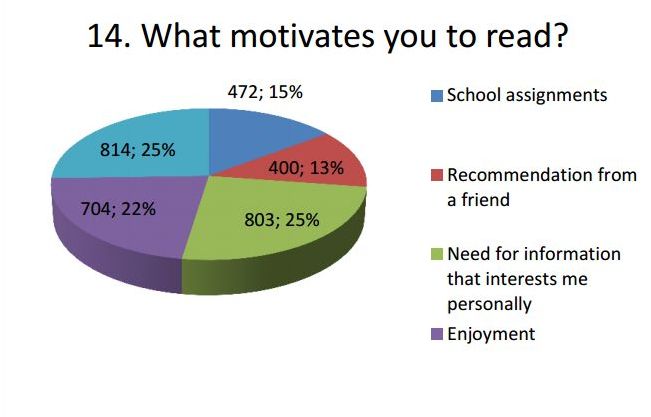 Motivation for reading proved to be very important. Pupils claimed that they were motivated by pleasure of reading, relaxation, the need to get information. Recommendations by friends were also highly motivational, as well as books by familiar authors they liked. Compulsory reading for homework or school assignments was less motivational, regardless of gender or age. The logical assumption, of course, was that being told what to read instead of choosing the book themselves significantly decreased the level of motivation in all pupils that participated in the survey.
The main reasons for not reading or reading rarely are: lack of time, tiredness, problems with concentration or not being able to read quickly and needing too much time to finish a book.
Czech Republic
Slightly less than 400 Czech pupils (389) participated in the survey. All age groups of both genders considered reading important, and a large majority stated that they more or less enjoyed reading. The answers were proportionately distributed among all four age groups (15-18).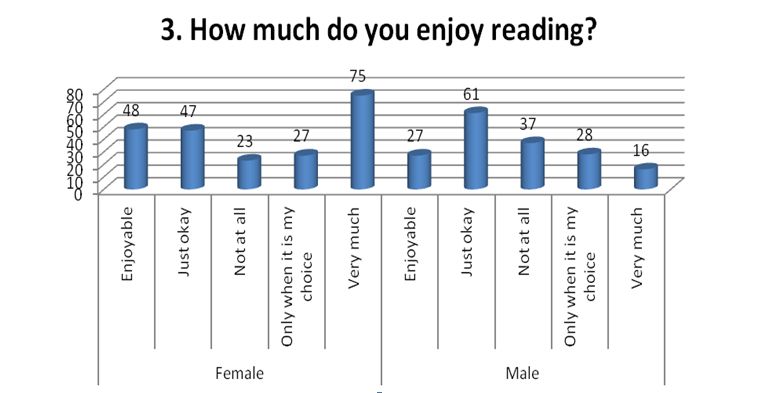 The gender difference, however, was obvious: girls expressed their enjoyment in reading much more often than boys. They also prefered printed books, whereas boys were more likely to read shorter texts online. Both genders and all age groups gave preference to fiction, with fantasy being the standout genre.
The motivation for reading is mostly entertainment, but also acquiring information and learning. Some of the pupils read to escape reality of everyday life, which could unfortunately be a sign of problems in their personal lives.
Like their Slovakian peers, Czech pupils mostly read in bed. It is the most comfortable place for reading, but more importantly, evening or night is for many pupils the only part of day they have time for reading.
Time spent reading seemed to increase with age: older pupils read more, which might be attributed to maturation and increasing interest in the world around them. As for reading frequency, most girls read twice a week or more. Boys responded similarly, but admitted to reading only when forced. Most respondents read up to four books in a school year, which corresponded with their required reading assigned in class, which meant that school has a great influence on what and how much the pupils read. It might have also contributed to their insecurity about their reading skills. They did not feel very confident about their skills and they had difficulties maintaining concentration. The possible reason might have been the selection of books they were required to read: they seemed to be too difficult for them and did not reflect their interests. The teachers should therefore try to motivate them to read by providing historical and social context for the works and authors, helping them understand what exactly they are reading and why.