Aquilonis represented Handbook for RSP readers during 'Days of Free Teaching' in the Economy and Administration School in Bjelovar. Days of Free Teaching are a series of lectures and workshops led by respected experts from the economy, science and culture, held just before Easter holidays and lasting three days. This programme was first held in 1993 by Professor Vojislav Kranželić, the director of the Economy and Administration School in Bjelovar who is still the one organising it 18 years later. After a talk with director Kranželić to properly assert students' and programme needs, Aquilonis reached out to Ana Kapraljević, a female writer and a professor who recently moved to live in Bjelovar. Besides her regular job and her writing career, she is a volunteer for Early Start Development, a community based organization designed to support individuals through mentoring and coaching while providing opportunities and enhanced skill-development through self-awareness, career preparation, technology, science awareness, entrepreneurship, service learning, social and human capital, life, community development, business soft skills, and the arts. Recently, she and her partner started Talks with a meaning, open discussion and literary group meetings with a purpose of encouragement of open discussion and critical thinking among Bjelovar citizens. Ana showed great interest to actively participate in our project and promote its vision throughout her many activities.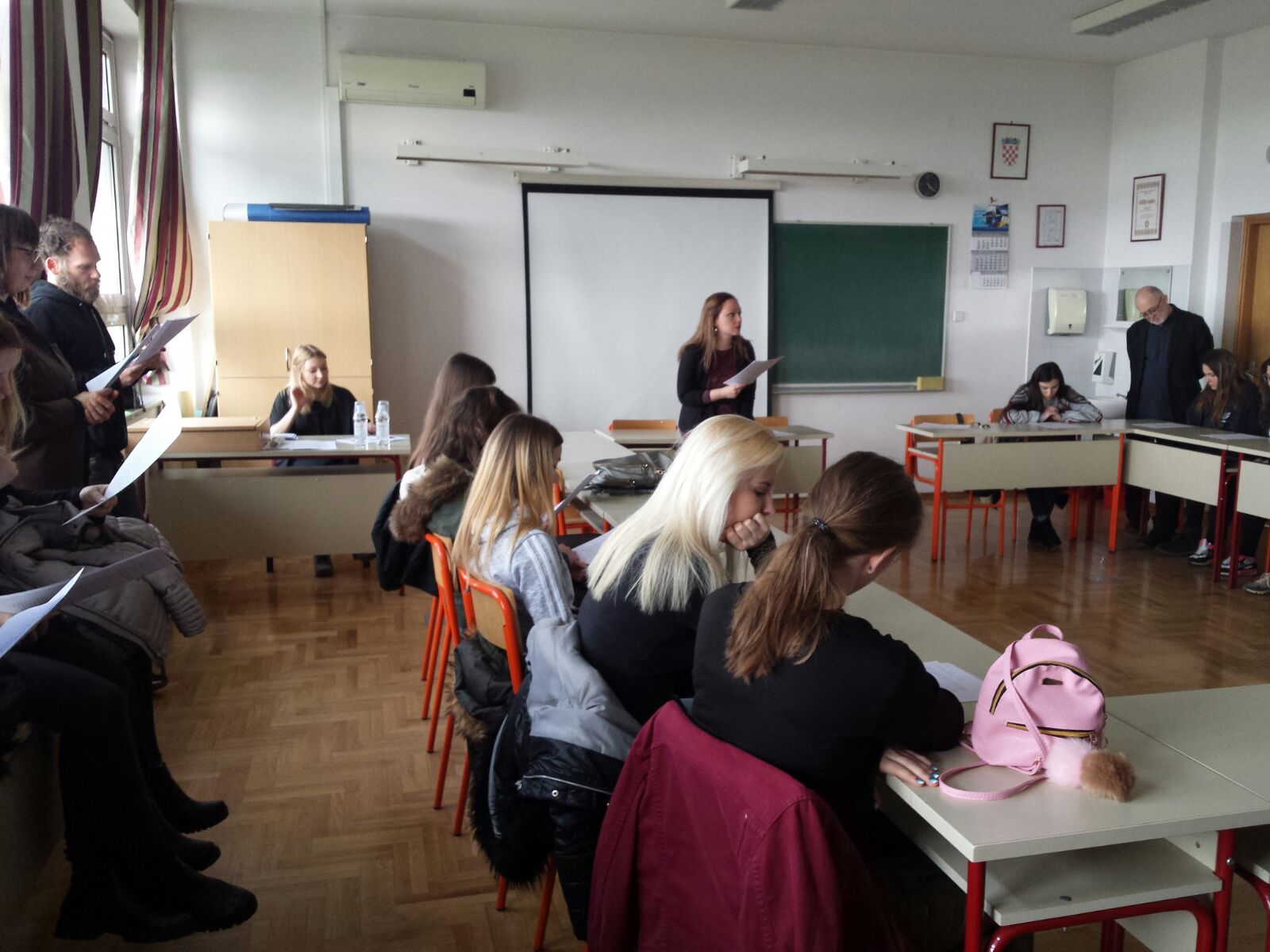 Read more: Myths and fairytales workshop – why reading really can't be boring!
...the piloting results are almost here! Meanwhile, take a look at the last portion of materials received from project partners!
Slovakia:
X. gimnazija Zagreb:
Director of Aquilonis, Predrag Pale, PhD, participated in a State Expert Conference ''European Year of Cultural Heritage'' organized by the Education Agency's Senior Advisers Marijana Češi and Miroslav Mićanović. On February 21st conference gathered around 200 participants in Croatian State Archivesis, mainly teachers of all general subjects, professional associates, educators and principals of elementary and secondary schools of the Republic of Croatia. The conference covered various fields of art (literature, architecture, film, music, art history, theatre ...) and new technologies.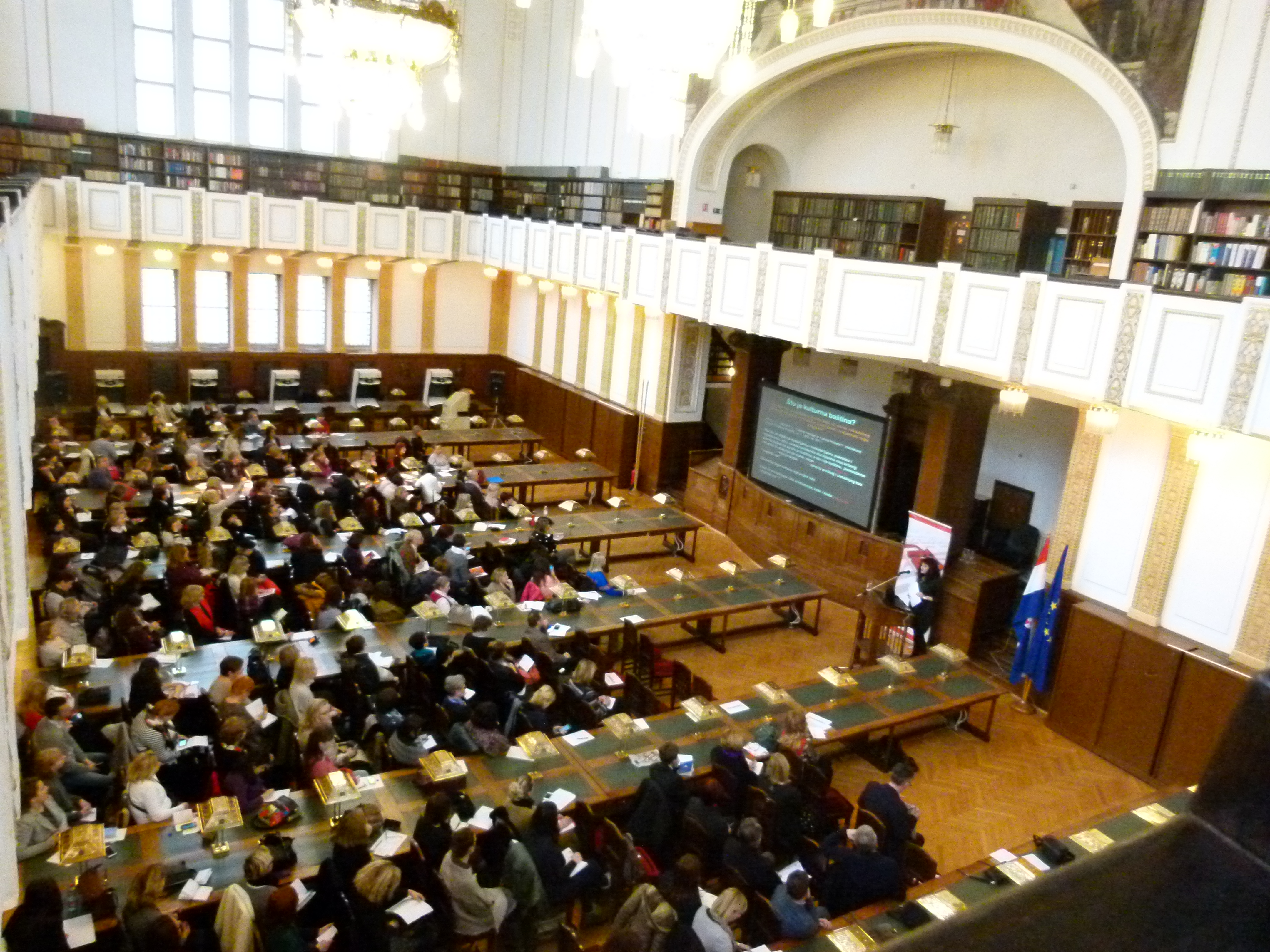 Read more: State Expert Conference - European Year of Cultural Heritage
As the end of the methodology piloting activity came to its close, we began to receive more beautiful materials from our partners and participating schools. The positive effect produced by these newly developed methodologies are undoubtable.
Take a look at the images and videos below and stop for a second. Now imagine that our project teams achieve the project's mission, imagine that other schools and countries adopt these methodologies, imagine they start researching and developing their own! Imagine how greatly it would reflect on students' attitude and motivation on reading, on their reading skills, on their willingness to participate in class, on their learning process and their future education goals...
Join our cause, use our methodologies and be a part of the change.
Inspire young people to strive for more, encourage them to achieve their potential!
Split, Croatia:
Read more: Wonderful impressions at the end of the piloting activity
Project teachers are currently finishing the activity of testing each other's work methodologies with a purpose of perfecting and measuring their impact on RSP students for our Handbook. Methodologies developed by our project teams are detailed instructions and useful tools for each teacher willing to improve his teaching methods, raise student involvement and excitement about reading and, of course, for the teacher devoted to encourage and motivate the RSP readers in his class.
Pavlína Vočková, teacher and project participant from the Czech Republic, sent us her experience after one of the classes in which she tried out a new methodology that involved creating graffiti and short videos related to the theme of the book they worked on.
When it comes to creative tasks, my students are usually full of ideas. That is why I did not have any doubts about fulfilling the task of shooting short videos with graffiti. But they did much better than I had supposed! In the school, there were many places whose atmosphere was surprisingly changed by those graffiti. We really enjoyed watching videos at the end of the lesson. The students appreciated each other´s works which made me really satisfied."
Take a look at a compilation of lovely videos and photos Czech students from Střední škola Náhorní created as a result of a new methodology implemented by their teachers...
Read more: Testing these new methodologies really sparked students creativity!
At the end of November there was the second meeting of Czech and Slovakian students who are part of the project. Unlike May, the roles of host and guest were reversed, so the Czech students, during the long train ride, could only wonder what is waiting for them in Rožňava. The weather was unpleasant, but most of us fended off with good spirits and appropriate cloathing. Despite the weather everything was perfect. And we definitely have something to remember.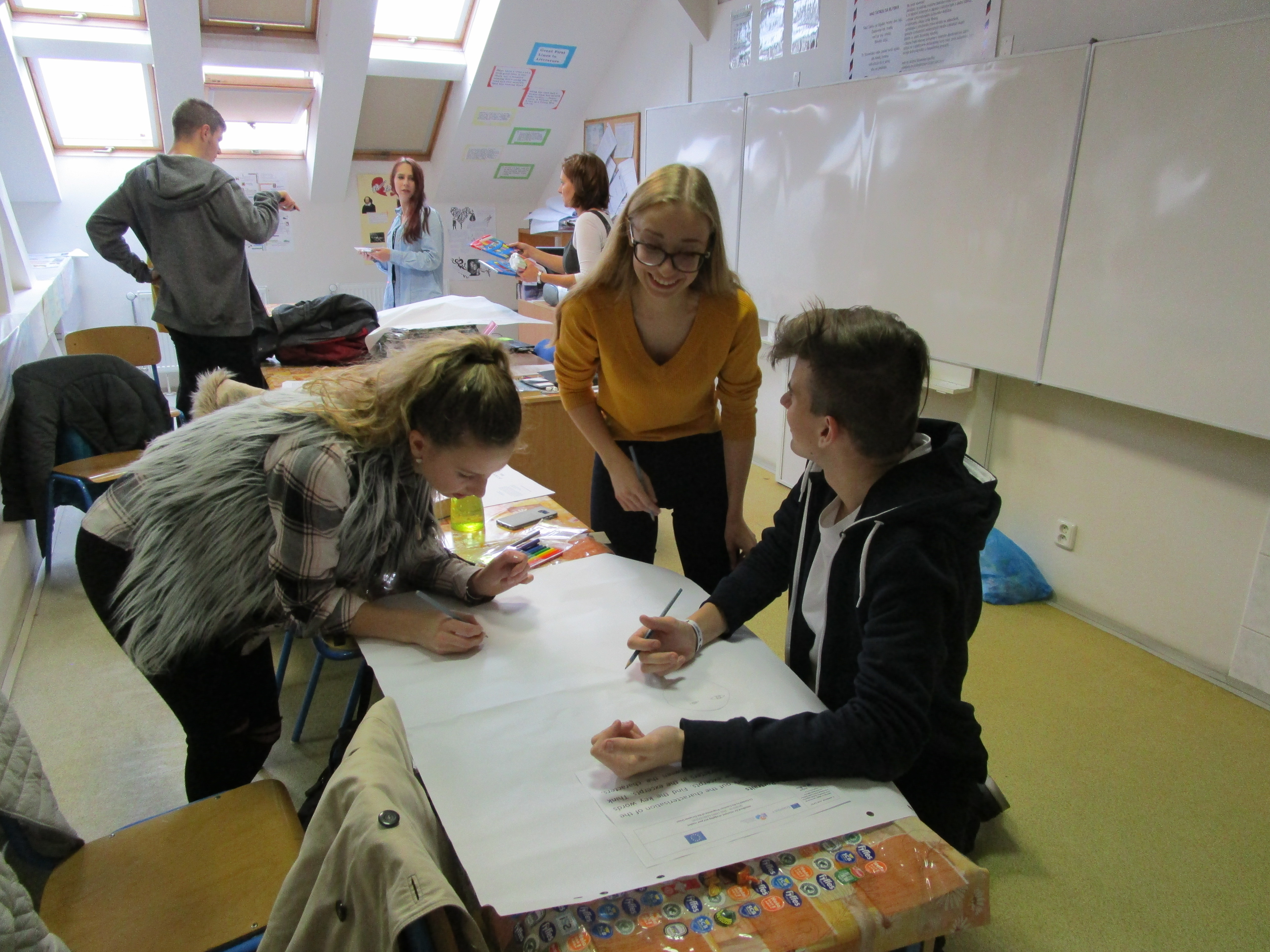 ŠKOLSTVÍ magazine published by the Czech School Unions presented our project in an article written by Pavlína Vočková.
The article can be found on the page 7 of the ŠKOLSTVÍ magazine!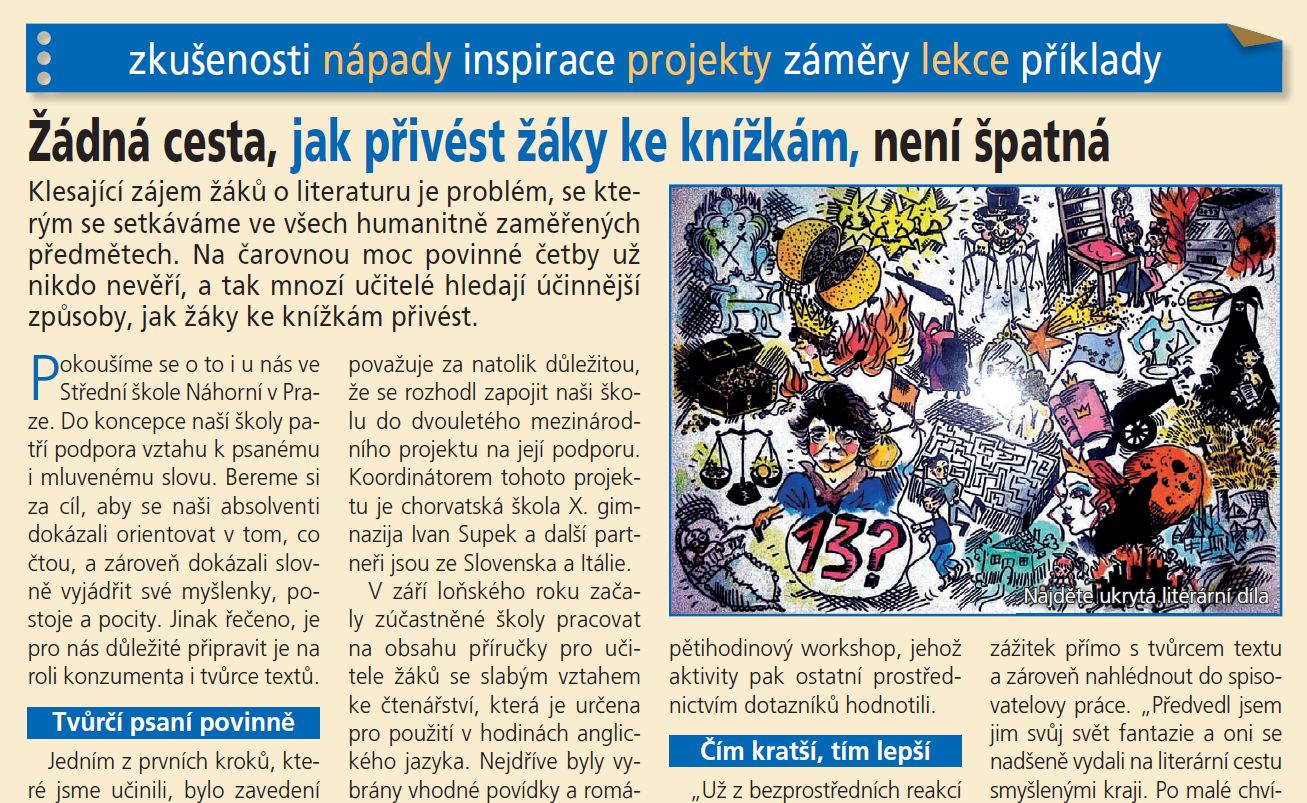 On October 2nd our project teams met with smiling faces and determined minds. We rolled up our sleeves and gave our very best to actively and creatively contribute to each point of our 3-day agenda. And the outcomes were amazing!
Take a look at our video from the meeting!
On 23rd October 2017 our teachers participated in a Slovak national competition in the school library. The theme of the competition was: " The most interesting school library activity focused on the Day of Milan Rastislav Štefánik."
The organizers of the competition: PaedDr. Eva Szanyiová, Mgr. Lýdia Kalinová a Ing. Tatiana Chocholová
The number of the participating students: 58
The teachers of Slovak and English language organized a competition which was announced by the Slovak pedagogical library. Involved were the students of 2.B and 3.B and they were competing in groups of 4 or 5.
The whole competition was focused on the improvement of reading literacy and development of their reading skills. The teachers tried to motivate the students towards reading and they created 4 different competition checkpoints. In each of them the students learned about Slovak and world literary works. Three of them lead to M.R.Štefánik who is a very important personality from the history of Slovakia.
Read more: Slovak national competition: The most interesting school library activity!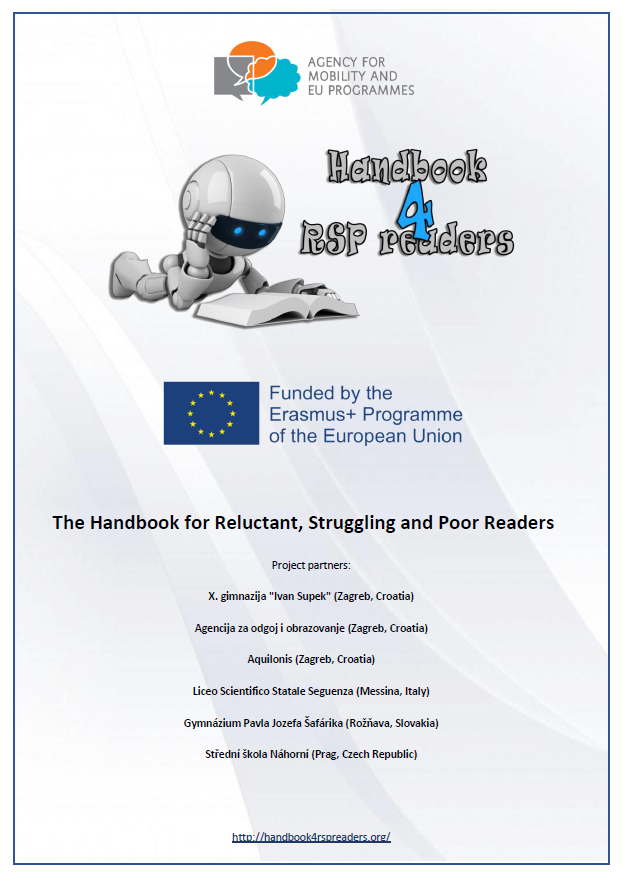 In our second project newsletter you will see many creative school activities and competitions, important talks and useful meetings.
Take a look on how our small international team dreams big, works hard and progresses in its strong intention to motivate young (non)readers.