Book title
Key Item
Author
Isaac Asimov
​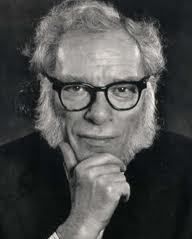 Bibliographic information
Einaudi,1982
Links (adaptations, reviews, full texts etc.)
Theme
Science fiction
Short summary
Multivac, a huge and perfect computer, stops working. Two scientists try to detect the fault, but the machine appears to follow more complex procedures which will be revealed by the choice of a key word.
Why is the story appropriate for the targeted groups of RSP readers?
-
What are the distinguished readers interests reflected by this book/story?
Science fiction sparks young readers' imagination, thanks to the several film productions based on this genre. After reading such stories, teenagers are often eager to watch sci-fi films, such as Base Runner, directed by Ridley Scott.
Why is this story motivational for the pupils?
The short story is written in a simple and clear language. Although this text was published 50 years ago, the young generation find elements in common with our modern society.
Is there a historical, political, multi/inter cultural, migrant or similar context recognized in this book/story?
No, there isn't.
Is there a principle of inclusion reflected in this book/story and does it promotes understanding of cultural diversities and heritage?
No, there isn't.